50th PMAP Anniversary Plenary Speech
Throwback blog from 09/29/2013 by Atty. Hector V Hernandez:
Philippines HRM Inc: Filipino Human Capital As a Driver of Growth
Speech delivered to the plenary session of the 50th Annual Conference of the People Management Association of the Phils (PMAP) by Atty Hector V Hernandez, FPM last 28 September 2013
Background
50 years of solid people management representing the gold standard for the Filipino human capital is what we are celebrating in this conference and what a fitting recognition for the premier association of talented HR practitioners all over the country attending this conference.
When I was told of the topic assigned to me this morning, I found the topic rather serious as our objective says here: to find out how can the HR community (that's us) become more relevant and strategic in sustaining the country's current economic growth….7.5% according to the last estimate or was I looking at another number?
What to Expect
What I would like to do is to focus first on the standards of global competitiveness, see where the Filipino Talent is placed compared with the rest of the world, find the strengths of the Filipino Talent, consider the barriers in developing the Filipino Talent and then dwell on how we can enhance the Filipino Talent.
Considering our limited time in this presentation, I will first consider the latest figures gathered from the 2013-2014 Global Competitiveness Index study issued only this month of September and so the data are very fresh. I will also bring forward some ideas learned in the land of the 1.2 Billion people (and still counting) where I lived and worked there for more than 4 years in South Asia as an HR and OD practitioner.
The GCI
The Global Competitiveness Index is a document prepared by the World Economic Forum whose objective is committed to improving the state of the world.
They define "Competitiveness is defined as a set of institutions, policies and factors that determine the level of productivity of a country."
Let me show you the 12 Pillars of the Global Competitiveness Report 2013-2014 released last Sept 4, 2013.
From among 148 countries in this study, Philippines has gone down from number 85 in 2010 to 75 in 2011 to 65 in 2012 and now 59 in the latest report. Wow, this is amazing… this is good news for the Philippines…..don't you think so!
Let me show you the ranking of the Philippines in the top 60 countries according to their respective GCI.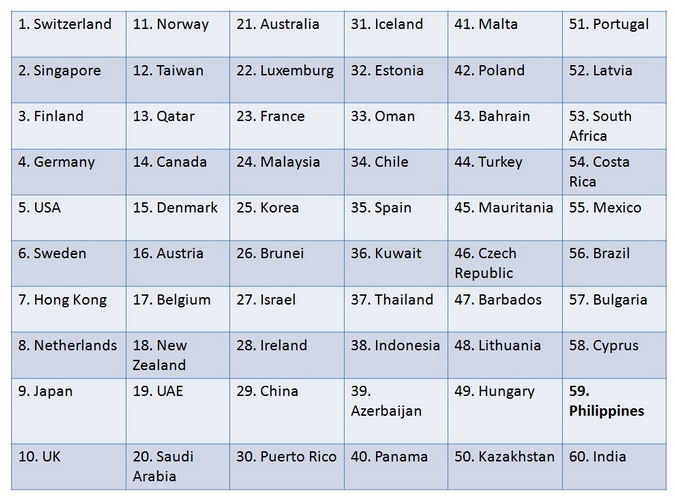 Analysis
Wow, we are ranked 59 out of 148 countries BUT see where our neighbors are located. (Singapore, HK, Taiwan, Malaysia, Brunei, Thailand, Indonesia)
Lets first talk of the good news. What does this report tell us in terms of the strengths of the Filipino Talent
Strengths
Degree of customer orientation (20)
Willingness to delegate (26)
Extent of staff training (27)
Reliance on professional management (32)
Cooperation in labor employee relations (34)
Quality of management schools (39)
Quality of educational system (40)
Pay and productivity (44)
Availability of latest technology (47)
Capacity for innovation (48)
In summary we have the following competencies that is quite a list for the Filipino Talent if you will:
Customer orientation
Developing others and self
Collaboration
Motivation
Innovation
Professionalism or genuine love for work
Areas for Improvement
What about the need to improve areas?
Primary education enrollment (108)
Quality of scientific research and institutions (91)
Availability of scientists and engineers (87)
Continuing capability to attract talents (86)
Quality of primary education (76)
Continuing capability to retain talents (71)
University/industry collaboration in R&D (69)
I am sure the Hon. Secretary of Education has been briefed on this report and he is already working on how to improve our primary education system. Easier said than done but it has to be his priority if we want to be globally competitive.
In the areas of scientific research and education of scientists and engineers, this has to be addressed by the Commission on Higher Education and the universities to strengthen academe-industry collaboration in R&D.
Continuing capability to attract and retain talents is a big challenge not only to the government but to the private sector as well.
Proposals
I therefore reiterate the following to make the Filipino Human Capital more competitive:
a. Focus on improving the primary education system and enrollment
b. Enhance quality of scientific research and institutions to produce more scientists and engineers
c. Increase collaboration between academe and industry esp in R&D
d. Review and implement new attraction and retention strategies
South Asian Experience
About 2 months ago, I came back from India where I was posted for more than 4 years as Global Head of HR & Operations of an international research organization based in Hyderabad City, capital of Andhra Pradesh.
I was tasked of ensuring that the institute continues to become a high performing organization with best talents — scientists and managers from all over the world to benefit the smallholder farmers of South Asia and the sub-Saharan Africa estimated to be about 770 million poorest of the poor in that part of the world.
As a foreigner living and working in the city, I observed some practices that perhaps we can learn from this vast country of 1.25 Billion people where half are living below poverty line but you have to reckon with the other half who can afford to live the good life and you are talking about 610 Million people in one place. That is almost six times the entire population of the Philippines.
By the way, there should be about 500 Pinoys in the state of Andhra Pradesh (pop. of 100 Million) and they work as engineers, scientists and managers. In all of India, my guess is that there should not be more than 2,000 working and living there.
Passion for Education
One thing that you will notice or observe as you look around or when you converse with ordinary Indian employees or staff — is the Indian passion for education. We Filipinos always think that we love education yes I agree but Indians are passionate about education. I had a chance to visit many an Indian city and when you visit any Indian city, you will notice a proliferation of schools everywhere – public schools, private schools, business schools, international schools, customized schools e.g. for engineers, nurses, doctors, teachers….etc
You see, in my almost 25 years as HR Head in the Philippines, I could not remember an instance when a Filipino staff asked for leave request to review his or her children for the forthcoming exam. But in India, for the last 4 years I was there, this is a regular request…. whether male or female employee, scientist or admin staff – reason for leave is that he or she will review the kids no less. So that is one of the secrets why we see so many Indians becoming CEOs in the biggest companies in the Philippines, in the AP region and in the world. Their passion for education is embedded in the basic unit of family support and they don't just say it, they do it.
Thrifty Character
Do you know that in India, as soon as a new family member comes into this world, the family begins to save especially if the new comer is a son? Typical Indians are very savings conscious and will ensure every Rupee they earn goes to the bank or in their gold deposits. Yes, you heard it…they invest in gold even the lowest ranking staff…those that sweep the floor will have gold investments….well…they are the highest investors of gold per capita in the world.
Do you also know that in India, there are several business schools abounding? And their business schools are considered in the top best schools in the world! (Ex. Indian Institute of Management-Calcutta (IIM-C))
Government and Private Sector Support for education
India as country is not corruption free but you will be amazed with the kind of funding their central and state governments provide to the education sector and the way some of the big names of Indian businesses like Tata and Reliance are helping the academe in their transformation to compete in the world of business around the world. Tata alone just recently gave a donation of USD50 million to Cornell University and another USD50 million to Harvard University. Tata Group has almost 400k employees globally and a capitalization of USD80B.
Silicon Valley experience
In one speech of Dr Francisco Nemenzo last June 25, 2012 (former UP president) he once said and I quote
Some countries owe their development to their overseas nationals. India is one example:
In the boom days of Silicon Valley many Indian scientists and engineers immigrated to the US. It turned out that they contributed to India's fantastic leap from a backward nation to a super power in the IT Industry. When they left India for lack of opportunities at home, they brought with them a strong sense of nationalism, a strong commitment to lift their native land out of backwardness. Over the years, they passed on to the Indian Institutes of Technology the most advanced knowledge and skills they learned in America. And when the Silicon bubble burst, they persuaded Microsoft, Oracle, Accenture, Google, Facebook, Polaris, TATA, Wipro, Verizon, GE, HP, Novartis, etc to relocate their research facilities to Hyderabad , Bangalore, Chennai, Pune, Mysore, etc where there is now an abundance of world class scientific and technological manpower." Truly unbelievable.
In closing, am very hopeful that when we meet next year in our 51st anniversary, the GCI report will again give us the new good news of coming down to another milestone number in terms of global competitiveness….perhaps @ 45….or 40 …..Who knows…..as the saying goes, " hope springs eternal."
Thank you for you listening.
More from Our Blog…
Whenever I discuss with my line managers regarding their concerns on running an important skills building program or intervention for…
Nearly every supervisor knows that employees want to be valued and appreciated especially when they do a good job e.g….
Every day of every week as the HR Manager goes to work, he needs to adapt to the changing everyday…